.........
Try this song
[click here]
Anyone Can Play Electric Bass
taught by: Scott Miller (bassist/vocalist)
This DVD course is designed for people who want to play bass in a small group or ensemble and presents all the most common musical forms. You will learn bass techniques for rock, country, pop, and other popular music styles. No music-reading ability is required. After mastering this method, you will be ready to start playing with other musicians regardless of what type of music you choose.
Product #: mb94216DVD ...... $14.95 + $2.00 s&h
FAQ: Bass Guitar Care and Setup - Book
by John LeVan
A hands-on guide to bass guitar repair. With photographs, diagrams, and
sketches made by the author, John LeVan and some provided by manufacturers. It even includes a forward written by Bob Taylor of Taylor Guitars. Learn how to:

• Clean & condition a guitar.
• The restringing techniques of the professionals.
• Adjust the neck.
• Adjust the bridge saddle.
• Adjust the string nut.
• Adjust the pickups.
• Adjust the intonation.
• Carve string nuts.
• Miscellaneous upgrades and repairs.

This book is perfect to teach a beginner or a reference for the guitar repair professional.
Book ..... Product #: mb21032 ..... $7.95 + $3.00 s&h
FAQ: Recording the Guitar - Book
by Phil Gates
Product Description:
Designed to give aspiring guitarists answers to common questions about recording your music in a brief, affordable, yet informative fashion, this FAQ book provides concepts, techniques and many answers to frequently asked questions about digital recording. It will give you the necessary tools and information that will allow you to record digital music on your own. Use this book as a foundation, then build your own recording process, and enter the world of recording that's fun, satisfying, and ready for the world to hear!
Book ...... Product #: mb21035 ..... $4.95 + $3.00 s&h
COMPLETE ELECTRIC BASS METHOD
Book, CD & DVD
While still available in two separate volumes (93234 and 93235) Roger Filiberto's widely-used beginning bass method is now available in one comprehensive book! Includes handy arpeggio charts featuring major, minor, augmented, diminished, and dominant seventh chords, plus their upper harmonic extensions. Applicable to any style of music, this method has gained widespread acceptance as the foundational text for electric bass study! Includes a CD and DVD. This is the most complete coarse you will find.
Product #: mb98515SET ....... $22.95 + $4.00 s&h
Squier by Fender Affinity Series P Bass
New - Red Body Color

Very well made, very affordably priced.

Lay down a solid groove with the Squier Affinity Series
P Bass - Squier's version of the famous
Precision Bass. The Affinity Series P Bass
has a contoured hardwood body, maple neck,
rosewood fingerboard, split-coil pickups,
and 4-saddle bridge.

Squier by Fender Affinity Series P Bass Features:
Authorized by Fender, true P Bass design and specs
Hardwood body
Maple neck with rosewood fingerboard
Split-coil pickups
Four-saddle bridge
It's got the real feel, the real sound, and a righteous price!
Product #: 510424 .... $239.00 + $20.00 s&h
Bass Guitar Gig Bag
- New
Lightweight yet protective.

This bass guitar gig bag is custom-shaped and lightweight, perfect for most standard electric basses. The design combines the protection of a thick padded interior with gig bag portability. Its interior is lined with sponge-like foam material that provides substantial protection for your bass. It has an exterior accessory pocket, and heavy-duty 2-pull zippers allow the bag to be unzipped lengthwise. 2 carry handles and removable backpack straps make it easy to tote.
Protect your investment. Order now.
Product #: 483285 ..... $29.99 +$10.00 s&h
Bass Guitar Hardshell Case
- New

Deluxe hardshell case for an impressively affordable price!



T

hese deluxe cases for bass guitar are built road-tough with 5-ply cross-laminate wood construction, plush interior lining, heavy-duty hardware, interior accessory compartment, and locking fasteners.


Deluxe Hardshell Bass Case Features:

* 5-ply wood construction
* Textured vinyl covers
* Plush lining
* Heavy-duty hinges
* Molded plastic handle

Don't let your pride and joy suffer. Invest in permanent protection today.

Product #: 540946 ..... $119.00 + $10.00 s&h
VELCRO CABLE TIES
Cable Tie Dimensions: 6.75" x 0.62"
8 pack of self attaching durable nylon ties.
Use in your music studio, home, office, garage, camping & more.
Organize all of your instrument, mic and speaker cables.
Keep all your cables untangled when you travel.

I use them to tie my mic cable neatly to my mic stand or keeping instrument cables tied.
All musicians will wander how they ever did without these.

Great for organizing computer and stereo cables too.

8 pack Velcro Cable Ties......$2.99 + $1.00 s&h
LEATHER GUITAR/BASS STRAP
with Embossed Design 2 1/2 " - New

For the look that lasts.
This foil-embossed beauty delivers quality and style. 2-1/2" wide guitar strap is made from 100% high-quality leather. Fully adjustable to a maximum length of 52". The designs are burned into the leather, so they'll never fade.

2.5" Leather Guitar/Bass Strap with Embossed Design Features:
StrapTite - Guitar Strap Lock
At some point your strap will slip off and your guitar will fall. It will hit the floor if you don't catch it.

By using this simple and inexpensive strap lock device, your guitar will never be at risk.

Slide these on an off as many times as you like. Unlike devices that mount on the strap, you can use the same strap on multiple guitars. These locks work with any strap and any electric, acoustic or bass guitar. Just slide them on over the strap. Made of material that will last and won't mar or scratch.

Order more than one pair for all of your guitars or for your musician friends !!

Note: Includes 2 StrapTite locks, enough for one guitar.

$2.99 + $1.00 s&h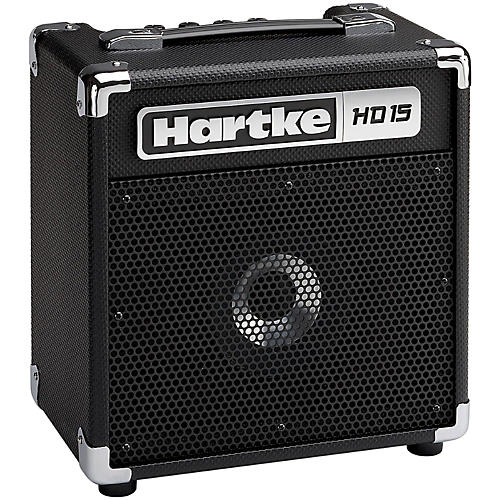 Hartke HD15 15W Bass Combo Amp
A rockin' 15W combo that'll let you learn and grow with your bass.
The all-new HD15 Bass Combo packs Hartke's patented HyDrive speakers into a sleek combo design for small venues, rehearsal spaces and bedroom practice sessions, and capable of greatly enriching your low-end tone. The HD15 also maintains Hartke's commitment to producing high-quality bass amplification with exceptional durability.

The HyDrive Design
The HD15 (15 watts, 6.5" driver) employs Hartke's patented HyDrive Speaker Technology that offers a carefully crafted hybrid (half paper, half aluminum) cone bass speaker. By combining the warmth and roundness of paper with the punch and attack of aluminum, the HyDrive design produces serious tone that is ideal for bass players of all genres and styles.

Solid, with Style
Packed with professional features, the HD15 combo is designed to be user-friendly and reliable for players of all levels. The combo offers Volume, Bass, Mid and Treble controls on its top-mounted amplifier panel, allowing for easy adjustments. It also features an 1/8" stereo Aux input for playing along with your favorite tracks via an MP3 player and a 1⁄4" headphone output for more intimate practice sessions. In addition, the HD15 has a built-in limiter to ensure constant amp operation at safe levels. Lastly, its solid enclosure is finished in a stylish fashion with a sleek, perforated metal grill and molded strap carry handle.
FEATURES
Power: 15W (solid state)
Speaker: 1 x 6.5 HyDrive paper/aluminum hybrid driver
Controls: 3-band EQ, volume
Built-in limiter
Aux. input
Headphone output
Metal grille
Order today!
It sounds great. Order it now. Item#: j20541 ..... $119.00 + $10.00 s&h